After decades of political turmoil, one of Africa's most enticing wildlife destinations is starting to lure back the safari crowd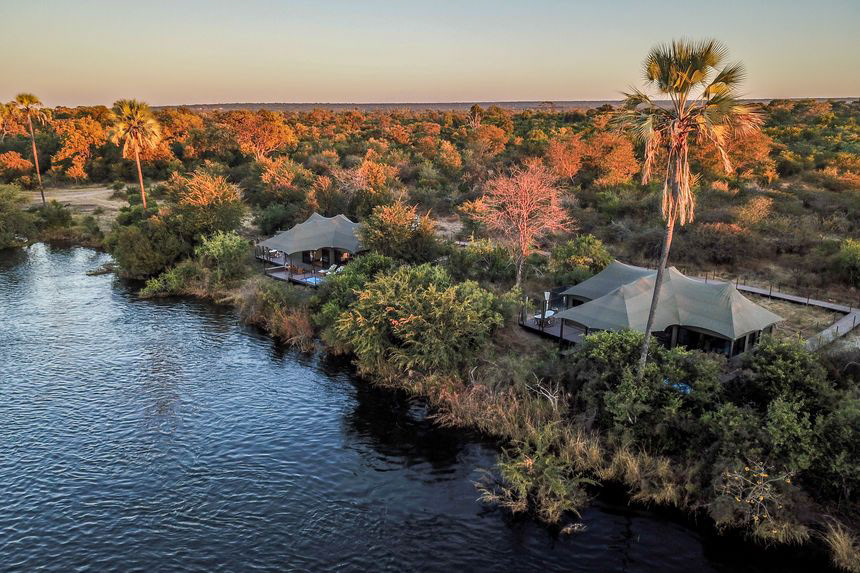 Wall Street Journal, Feb 13, 2020
WHEN PRESIDENT Robert Mugabe came to power in Zimbabwe over three decades ago, my parents piled my sister and me in a car and headed for the border. Their predictions of calamity proved right, but I travel back there often and consider it home, even though I haven't earned the right to. It's easy to get swept away in a place like this. 
You often find the bones of animals baking under the Zimbabwean sky, black antelope horns spiraling from a white skull, the rib cage of an elephant or the delicate wing of a bird. But when the bones are human the first thought is of one's own vulnerability. On a recent trip, I was standing on the bank of the Zambezi River with safari guide Vusa Sibanda and a small group of tourists from England and Brazil. A few miles downstream the water crashed into the deep chasm locals call Mosi-oa-Tunya—"the smoke that thunders." Foreigners call it Victoria Falls. The water was dark and lazy upstream. Barely 20 yards away a herd of elephants made their way to the water's edge. Silhouetted against the setting sun they drank and sprayed water in golden arcs over their backs. Not far from our feet, a skull took in the same scene.
I thought the skull might have been that of a fisherman who had ventured too close to elephants or hippos, but Sibanda said that a local historian believed it was over 500 years old, recently unearthed by the feet of elephants making their way down the river bank. The skull had rolled close to the water's edge. I climbed down for a closer look. Worried it would be swept away I motioned to pick it up, but Sibanda warned me to leave it alone. Searching further up the river bank I found vertebra and ribs sticking out of the soil, a humerus lay nearby and a scapula was embedded in the stratum. Among these bones lay fragments of clay pots. "Some say we're standing on a burial ground of the Tonga, the people of the river," said Sibanda. This was sacred ground. It was a reminder that, as seldom as we visit the wilderness today, we were once an integral part of it.
The sun had set and the sky turned a dusky purple as we drove back to camp. We were flanked by baobab trees over 1,000 years old. They would have towered over the Tonga people even 500 years ago. A serval strode into the beam of our headlights, an elusive feline with golden fur and black stripes that dispersed into spots like some wild morse code.

Zimbabwe has been battered by decades of political skulduggery, human rights violations and economic collapse brought on by revolutionary-turned-tyrant Mugabe, who was deposed in 2017 after 37 years in power and died, at age 95, last fall. Bringing the nation back from the brink is a monumental task for new president Emmerson Mnangagwa, but the growth of tourism is a key part of his plan.
Tourism saw a resurgence toward the end of Mugabe's regime, in part because of his unlikely term as a leader of the United Nations World Tourism Organization between 2013 and 2015. As such, Zimbabwe's most popular safari destinations remain safe havens while the rest of the nation continues to lick its socio-economic wounds.

The level of guiding is one of Zimbabwe's essential draws, said travel operator Shelley Cox of Africa Conservation Travel. Local guides, like Sibanda, endure rigorous training programs culminating in lengthy apprenticeships. "They go through proficiency tests which involve facing dangerous game to make sure they can handle the situation," said Ms. Cox. The first time I got too close to an elephant was in Tanzania's Tarangire National Park with renowned Zimbabwean guide Lewis Mangaba. The elephant warned us with a mock charge and, against everything I had been taught, I reacted by running away. As I ran, bleating like a child, Mangaba stood in the elephant's path. He clapped his hands and shouted ferociously at the beast until it backed down and retreated. This was not his first rodeo.
Ms. Cox echoes the phrase when describing Zimbabwe's tourism community. "Travel companies have been operating throughout Zimbabwe's political and economic upheavals. They're not new to challenging conditions," she said. Goods are often imported from South Africa and neighboring countries when local producers fall short. The location of the most prominent national parks on the periphery of the country makes this more manageable. The bustling town of Livingstone in Zambia is just across the bridge from Victoria Falls, and Kasane, the gateway to Botswana's Chobe National Park, is just 43 miles away. "You make sure you have three month's worth of supplies should [provisions] run dry," said Gary Archer, CEO of Wild Horizons, which runs a few lodges, the Lookout Cafe, leisurely river cruises, rafting excursions and all sorts of activities for adventure lovers near Victoria Falls. "If you're really in a difficult position you jump in a car and nip over to Kasane or Livingstone to buy what you need."

Other operators like Machaba Safaris opened two camps in Hwange National Park last year, while Great Plains Conservation now have camps both in Zambezi National Park and adjacent to Mana Pools National Park, known for its lush riverine forests and elephants that rear up on hind legs to reach the seed pods of tall trees. African Bush Camps, which already has three locations in Hwange, recently opened two more in Mana Pools, too.
Like I always do, I visited Victoria Falls before I left. I have yet to fathom this mile-long wall of water that bellows like a thousand thunder claps. I was drenched by the spray that rose from the chasm below and wondered what the Tonga people would have thought, gazing at this scene all those years ago. All I know is that it's a damn fine place to leave your bones.
Zimbabwe's big beasts may be the more obvious draw, but the ample birdlife is just as impressive
The country's habitats range from riverine forest through woodlands, scrubland and open grassland to misty montane forest, attracting a large and diverse range of avifauna. The Victoria Falls area alone hosts as many as 450 species. Here, some of the most charismatic: 
African pitta:

 An elusive forest bird, it has flashes of turquoise on its wings and a bright red rump, which it happily displays during its mating ritual.
Little bee-eater:

 Easy to identify because of its diminutive size, the little bee-eater (pictured above) is a common resident of Zimbabwe lured out of the trees during summer rains to feed on the bounty of insect food. 
African jacana:

 A wader, it has long toes and claws that enable it to walk on vegetation floating on lakes and rivers. The female will mate with a male, and as soon as she has laid the eggs she'll move on, leaving the male to incubate and raise the chicks. A species way ahead of its time. 
African skimmer:

 A long-winged bird with black-and-white plumage and a red beak, it uses its lower mandible to snap up fish as it skims the surface of the Zambezi River.