Published in Safarious, February, 2018
We drive along Namibia's Huab River on the trail of a large lion that passed by our camp early in the morning. The river is little more than a dusty corridor flanked by Ana trees and sand banks. Elephant tracks obliterate the lion's, and before long an old elephant bull appears, stretching his trunk to reach seed pods at the top of a tree. The lion tracks reappear, and they lead us to a spring surrounded by reeds where they mingle with those of sub-adults and lionesses, a pride that drank here a short while ago.
Despite the desert environment, North West Namibia sustains a remarkable diversity of wildlife. Most famous for its desert-adapted elephants and lions, you also find herds of springbok and zebra grazing after errant rains; gemsbok, eland, giraffe, and ostrich; migrant birds from as far away as Europe - I saw it all on this trip, even a caracal, but none in significant numbers, a prolonged drought has seen to that.
I'm travelling with renowned conservationist Garth Owen-Smith and his equally renowned partner Dr Margaret Jacobsohn in Namibia's North West. Among many individual accolades, the pair have jointly been awarded for their work in conservation, the most significant being the Goldman Environmental Prize and more recently the Prince William Lifetime Award for Conservation in Africa. I'm here to learn more about human wildlife conflict which has escalated dramatically since the drought.
Driving up a slope we come to an abandoned cattle kraal (corral) not far from the spring. Sturdy posts support a fence; shade cloth fastened around the structure makes it impossible for predators to see the livestock inside; the remains of electronic motion sensors can be seen on high corner posts - they would have activated lights and alarms giving the herders a chance to chase lions away.
"They moved their cattle here because of the drought," says Owen-Smith. "They burned the reeds at that spring - they would have been a bit poorly - and that brought on fresh green shoots. Then they fed the cattle on these reeds for two years, protecting them inside the kraal at night."
This way of protecting livestock is proving essential in the North West where the drought has resulted in much greater predation of livestock than ever before. Thanks to this kraal only two cattle were taken by lions here at the spring. Other farmers have not been so fortunate.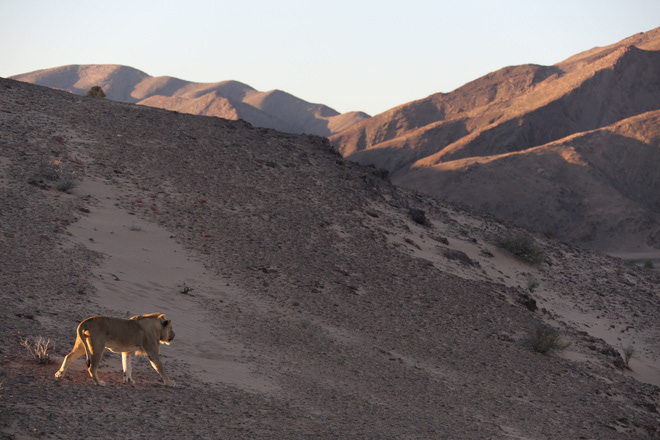 Conflict in the conservancy
Bennie Roman, founding chairman of Torra Conservancy, has a farm near the conservancy office in Bergsig. He, along with more than 3 000 others, was uprooted from his home in Riemvasmaak in South Africa's Northern Cape and relocated here in the 1970s to make way for a military base there when Namibia was still governed by South Africa. The land appeared promising to Riemvasmakers, but they were introduced to it in a particularly good rainy season. The norm in North West Namibia is drought.
Determined to make it work, Roman first farmed karakul sheep here, and it wasn't long before he began collaborating with the NGO Owen-Smith and Jacobsohn set up – Integrated Rural Development and Nature Conservation - IRDNC - to establish and maintain Torra Conservancy, one of the first conservancies in Namibia. Today he farms cattle and goats, and he recently built a new kraal at his home. It's just as sturdy as the kraal by the spring, but for one unfortunate circumstance: he built the kraal beside a tree.
"They've killed all my goats. Do you know how long it's taken me to build that herd? Take them! Eat them. Now I have nothing."
Leopards are not known to be so brazen, but no doubt spurred on by the drought and severe hunger, the leopard climbed the tree, dropped into the kraal, and killed his entire stock of 24 goats. "This has been a really bad year for me," says Roman. "Many of my cattle were taken by lion earlier this year."
Current chairman of Torra conservancy, Tommy Adams, points to the nearby village where another farmer suffered an even greater loss after a pride of lions got into her poorly-made kraal. "More than 100 goats were killed right there. That woman was crying on the ground," says Adams. "She said to me: Tommy, they've killed all my goats. Do you know how long it's taken me to build that herd? Take them! Eat them. Now I have nothing."
Cats are known to kill aimlessly if there is a high concentration of defenceless prey. The panic that ensues in the confines of a kraal is likely to spur the cats on to even greater mayhem.
Namibia's conservancy system is regarded by conservation organisations around the world as the way forward outside national parks.
Here in Namibia's conservancies, farmers, livestock and wildlife live side-by-side.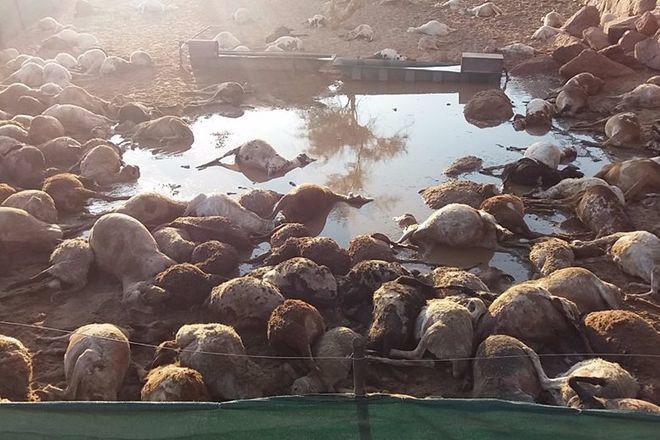 The aim is to conserve wildlife while helping to diversify the economies of the communities that have settled here. Unlike national parks and reserves, ownership of wildlife belongs to local communities. Tourism and hunting operators enter into agreements with the communities to establish concessions and safari lodges, or to hunt animals on the land, and a percentage of the income from these ventures goes to the community.
Communities benefit financially from the existence of wildlife, especially charismatic creatures such as lions, elephant and rhino, and therefore they see the value in protecting them. Other benefits are jobs, resources and infrastructure like boreholes, schools and roads.
IRDNC was instrumental in the creation of Namibia's conservancies and the founding co-directors have been applauded globally, but they stress that it is the communities that deserve the credit.
"As the first few conservancies were formed in the 1990s, neighbouring communities started seeing how their neighbours started getting ownership back over their wildlife and benefitting, so they formed conservancies themselves. Then their neighbours saw the benefits, and so on and so on," says Owen-Smith. There are now 84 conservancies in Namibia.
After the longest drought in 30 years, it must be difficult for communities to see the benefits of living with wildlife when the threat of predators weighs so heavily on them.
Effects of drought on Human-Lion Conflict
During the last major drought in the early 1980s, a record 98 sheep and 17 goats were killed by predators in one attack. By the time I visited the North West at the end of November, that record had been broken three times: once in October, again in November when 171 goats and sheep were killed in a kraal, and again in January when 172 sheep were killed by lions near the Huab River.
According to Namibia's Ministry of Environment and Tourism (MET) 1 303 incidents of livestock attack by lions were reported between 2003 and 2015 in Torra Conservancy alone. Four other conservancies reported a further 4 560 incidents in total.
Between 2005 and 2015, the MET says 18 lions were destroyed in Torra. 19 more lions were destroyed in the four other conservancies. By far the greatest number of incidents occurred between 2013 and 2015 when 27 lions in total were killed, indicating that the recent drought has had a profound effect on the situation.
That figure may be higher. Eminent local lion researcher, Dr Phillip Stander, says in a 2010 report that 32 radio-collared lions were killed between 2000 and 2010. "Of these the majority were shot or poisoned by local people during incidents of HLC [Human-Lion Conflict], and the remainder were shot for trophy hunting."
Recent numbers are sketchy. Izak Smit, among those who supply farmers with the tools and know-how to protect their livestock, says that at least 25 lions are known to have been killed between 2015 and 2017, five of them brothers made famous by the National Geographic film Vanishing Kings. Smit, who recently founded Desert Lions Human Relations Aid Namibia (DELHRA), believes that many more have been killed, and that the "Triple S method is applied by some farmers (Shoot, Shovel and Shut up)."
"Renewed grassland means the game scatters and it becomes even harder for lions to hunt, causing livestock losses to increase."
Depending on who you talk to, the current lion population in Namibia's North West hovers between 101 and 135.
In an arid environment like the North West, a prolonged drought takes a heavy toll on wildlife and livestock. Game numbers drop and predator numbers increase as prey is easier to find and kill. A low to non-existent birth rate means there is scant replenishment of game, the pantry runs dry and predators take to preying on livestock.It is believed Torra Conservancy's situation is aggravated by an over-population of sub-adult males that cannot move into older male territory, so they venture onto local farm land where they prey on livestock.
It's not only lions that people fear: scavengers like hyenas become more brazen and many people in Torra fear that they will soon take to killing children.
The arrival of rains spells relief, but it can also aggravate the situation.
Owen-Smith says that the recent upsurge in livestock attacks is due to fresh rains in western Kunene. "Renewed grassland means the game scatters and it becomes even harder for lions to hunt, causing livestock losses to increase."
Truant lions are often killed by farmers, but it appears that more and more locals understand the benefit of protecting wildlife and they turn to government and NGOs for solutions.
Due to their status as a vulnerable species, relocating lions may seem preferable to killing them, but it's a complicated operation, and might not be in the best interests of local wildlife, or farmers, in the long run.
Russell Vinjevold, coordinator of Natural Resource Management for Integrated Rural Development and Nature Conservation, mentions a pride of eight lions responsible for killing over 250 livestock in Torra in November. "Three of the lions managed to get away, but the MET captured five and relocated them to Erongo [Erongo Mountain Rhino Sanctuary]. Sadly, one died after capture, most probably due to stress."
Reports put the lion's death down to "capture myopathy" a disease in which muscle damage results from extreme exertion, struggle, or stress.
What further complicates things is that predators are often set loose in the territory of other predators, resulting in competition for resources. There is also a good chance they will attack livestock in the area to which they have been relocated.
In an unconfirmed statement from a conservancy field officer I met in Torra, another group of Torra lions, relocated to a game farm about 300km south, had "escaped" and were killing livestock on their long trek north, supposedly back to their territory in Torra.
An MET statement in early January explained that the lions relocated to Erongo were being moved again after one local farmer raised concerns for the safety of his livestock.
The MET is not only under pressure from farmers: the public and NGOs also weigh in on social media.
A search on the subject of lions killed in Namibia will deliver many reports centered on the killing of the lions made famous in the Vanishing Kings documentary. The media tends to focus on these lions because they were known to international audiences, and, like Cecil, have been given names. The wildlife-loving public's response on social media is generally polemic, and often intransigent when challenged. Media houses love it.
At face value, it appears that lions are being killed in Namibia with no consideration for the vulnerability of the lion population as a whole. On the ground in North West Namibia, it appears there are too many lions.
Owen-Smith is concerned that uneducated opinions voiced in social media and online publications have an impact on local wildlife management. "A decision-maker who receives hundreds, or even thousands of emotional tweets or emails from persons who may be well-meaning but do not understand the situation, can be influenced in how he/she responds to an issue," he said in a recent op-ed.
"These groups create all sorts of stories, like how tourists should boycott Namibia for killing Lion A or Lion B, or an elephant for money, but they don't understand the impact on conservation."
The MET's two Facebook pages are peppered with commentary, most of it critical, much of it scathingly so. Things escalate when an elephant or lion is killed by a trophy hunter sanctioned by government in the interest of removing a problem animal.
"In Namibia, trophy hunting is a form of conservation. These funds can be used for relocation of animals. It can also be used to assist communities and farmers," says MET spokesperson, Romeo Muyunda on the phone from Windhoek.
"But we have come to the point where we realise we can persuade some people, and not others."
Muyunde says that NGOs follow MET activities very closely and that many of them are critical of its actions in social media and via email. He also cites Facebook groups created by animal lovers and animal rights activists.
"These groups create all sorts of stories, like how tourists should boycott Namibia for killing Lion A or Lion B, or an elephant for money, but they don't understand the impact on conservation.
"Since independence, our wildlife numbers have doubled, despite the critics. A number of governments have come here to learn from our processes. That demonstrates we are doing the right thing."
Izak Smit challenges the MET both off and on-line. The NGO that he jointly founded, Desert Lions Human Relations Aid Namibia, aims to preserve lions by assisting farmers to protect livestock, principally by providing shade cloth and motion detectors for kraals. "Up to now we've covered 80 kraals with shade cloth," says Smit.
He says the biggest challenge to overcome is skepticism from farmers because government and NGOs don't deliver on their promises. He believes that bureaucratic culture in government prevents decisive action and hampers collaboration with NGOs.
"You turn to activism to create embarrassment in the media, to get them to react," he says on the phone from Swakopmund.
"The relocation of lions - playing god - is not working. Nature looks after itself. If there is an over-population of lions, cub mortality goes up and mothers become barren."
But, like government and NGOs, it appears nature is not moving fast enough for local farmers.
The bigger picture
Before the advent of social media, an over-population of predators normally had government and NGOs reaching for their guns.
Owen-Smith described the drought situation 30 years back, when livestock attacks were similarly out of control, saying that a professional hunter, senior conservationist, and staff of the Namibia Wildlife Trust assisted in reducing the lion population.
He says the help that the farmers got in that time of need played a crucial role in getting support from local communities for conservation, particularly when it came to stopping rhino and elephant poaching in the area.
Whereas lions are seldom poached here, rhinos are under pressure due to the black market value of their horn.
On the northern edge of Torra conservancy I ride with field co-ordinator of the local Conservancy Rhino Ranger Project, Boas Hambo, as he drives along a rocky river bed. Boas would have met us at our camp the night before, but before he reached us his headlights revealed a pride of lions on the river bank. He didn't want to risk changing a flat tyre with the lions nearby, so he retreated to the safety of a patrol base. The patriarch of the same lions kept us awake most of the night, roaring not far from our camp.
"Our primary goal is not to catch poachers. We're here to stop rhinos being poached."
The Conservancy Rhino Rangers embark on three-week-long patrols to monitor rhinos and act as a deterrent to poachers. Each unit is accompanied by an armed police officer in case of incidents. Created in 2012, the Conservancy Rhino Rangers programme is supported by Save The Rhino Trust, MET, IRDNC and Minnesota Zoo, and has proved to be successful in reducing poaching in the area.
Hambo believes the success of the programme hinges on their relationship with the community. "Our primary goal is not to catch poachers. We're here to stop rhinos being poached," he says, emphasising that it is not just about monitoring rhinos, it's about monitoring people.
"We form a relationship with communities. They provide us with info on strange people or activities. Even if there is a community member who is complicit, if he sees us, and we connect with him when we are in the area, he will warn the poachers, and there won't be poaching there."
The environment we drive through is unforgiving. Billions of basalt rocks cover the earth, a rust covered Mars-scape broken up by shrubs. I marvel at the determination of the rangers who must patrol this harsh land with the threat of lions ever present.
Back in the Land Rover with Owen-Smith and Jacobsohn, we see the bones of dozens of mountain zebras littering the ground near a spring, and we come across the remains of two giraffe, all victims of the drought – they starved to death, finding water but no food.
We descend the highlands and are soon driving across a dusty plain completely void of wildlife. In the rains it is a savanna teeming with springbok and zebra.
When we drop down into the Hoanib River Valley, life is restored. Ostriches race ahead of us along the riverbed, lovebirds flit between the trees, bee-eaters nest in the river banks, and sheep herders steer their charges along well-worn paths. Springs appear more frequently and the walls on either side grow into majestic cliffs that tell a story of ancient sea beds, lava flows and tectonic plates.
The next morning we round a bend in the river bed where a breeding herd of elephants suck and wallow at a muddy spring. We slowly come to a halt, and they are calm in our presence. The calves roll in the mud, kick at the air, and wave their trunks about to discover what other uses they have. Their mothers tower over them, shooting gallons of muddy water over their shoulders in practiced arcs. We are in awe of this indelible scene: giants dwarfed by ancient canyon walls.
That night, camping along the Hoarusib River, I wake to the deep contented rumbling of an elephant as it feasts on the seed pods of a tree just above my tent. I look through the gauze window and realise I am in the middle of a breeding herd. Twigs bounce off the tent roof, I hear the mammoth chew slowly at its meal, and I feel strangely at ease despite the close proximity.
If the elephants were eating my crop, I would no doubt feel differently. Yet somehow people are learning to live with wildlife.
How does your garden grow?
Back near the Huab River we meet the headman of a local village, Johannes Boi Mangani. Like Bennie Roman, he too is a Riemvasmaker forced to relocate here by the South Africans.
"We had no choice. I was with the first five that came to see it. All of them are dead now. It's just me," says Mangani. "Back then, the land looked promising, there had been good rains. But the real nature of the land soon revealed itself."
The village is little more than a settlement of tin shanties, baking in the sun. There are very few young people here, most have left to work in the towns or in the tourism trade. In essence, it's a retirement village - the villagers live off the money from the conservancy. 
Tomatoes grow in a tiny yard at the back of one of the shanties. Owner, Rebecca, a diminutive old woman, feeds the plants with water from a newly-built borehole on the edge of the village. This is a popular water point for elephants and Rebecca has to time her water collection well.
"The people of the village share the waterhole with those elephants. It belongs to both of them," says Owen-Smith.
But not the tomatoes. A string of rusted tin cans lines Rebecca's fence. Like the sensors on the kraal in the Huab, it serves as an alarm system.
She often has to chase the elephants away from her crop.
"One came right through there," she says, pointing to a gap between her neighbour's shanty and hers where an artful elephant tried to find another route to her juicy crop.
"But I just tell the elephants to go! And they go. We understand each other, the elephants and me."